I love spray paint. To me, it is one of the great innovations of the 20th century. I'm thinking about naming my next pet Krylon to honor this fabulous product.
I've been itching to get outside and rehab some old furniture. The problem is, it's too darn hot! Dang, I'm telling ya, I don't think this Arizona summer is ever going to end.
Since I can't show you anything new, I thought I show you an old favorite that I did: the Escaramuza Cupboard. It all started with this cute little cupboard I found at Goodwill for $20.
By the time I remembered to get my camera and forever preserve it's original condition, I had already taken the glass doors off. I thought this was going to be an easy job. Ha! I don't know what that white paint was made of, but it was a bugger to get off.
After a couple of days worth of stripping, 8 cans of spray paint, and working some magic with mod podge, I ended up with this. I have to say, this is my absolute favorite piece of furniture.
The Escaramuza Cupboard
Loaded up with vintage dishes and my collection of cookie
jars (many people are frightened by this collection).

I felt very clever using a rolling pin for a towel bar.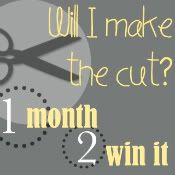 Pin It