16

Days Left Until Christmas

Plastic Toy Wreath
A recurring theme in retro crafting is gluing or pinning things to styrofoam. This is especially true of retro Christmas crafts. Take, for example, these two examples from Better Homes and Gardens Treasury of Christmas Ideas, copyright 1966:
This first example is made from a 12 inch styrofoam wreath, muffin cups, honeycomb balls, sequins and corsage pins.
This fancy wreath is nothing more than a styrofoam base with foil flowers and small gold ornaments pinned to it.
I didn't have any muffin cups or foil flowers around the house, so I decided to use what I did have. I giant pile of plastic crap!
Materials Needed:
Styrofoam wreath
Ribbon or trim for wrapping the wreath
Common pins that are at least an inch long
Sequins
Glue Gun
A bunch of small plastic toys, charms and/or cake/cupcake decorations
Instructions:
Step 1: Wrap the wreath with ribbon or trim, pinning as needed. I used a cheap plastic trim I got at the St. Vincent de Paul Thrift Store for a dime. You can use whatever you want whether it's paper or cloth ribbon, or some other trim. The idea is that you are covering the base so you don't see the styrofoam.
Step 2: Start pinning and gluing stuff to the covered wreath. Use an ample amount of glue as you don't want stuff falling off. If you can pin your plastic crap to the wreath, do so. If you have a charm and the hole is too big for the pin, grab a sequin and place that on the pin before pinning on the charm. I used cupcake toppers all around the edges of the wreath. Those are great because you just poke them in and you're done. This is a project where the words "too much" will not apply. Just keep adding stuff until the crafting gods whisper in your ear that you can stop (you hear those voice, too, right?),
Step 3: Add a hanger of some sort. I used some gold trim I had. You can pin this to the back of the wreath. If you do this, make sure to secure the trim with several pins. You don't want this new, precious, family heirloom to come crashing to the ground!
Cost: The stryrofoam form will run you about $4. The trim or ribbon to wrap the form will be another $5-10 depending on what you buy. The plastic crap will cost you nothing if you steal stuff from your children, grandchildren, nieces, nephews, and neighbor kids.
Time to Complete: 1-2 hours
Skill Level: Another great craft for anyone who is smarter than my coffee cup.
What exciting craft will tomorrow bring? Be sure to check back for Day 10 of the virtual advent calendar!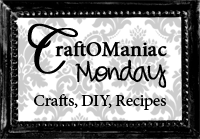 Pin It